Introducing the Reimagined 2022 Jeep Wagoneer, Coming Soon to Manvel
If you've never heard of a Jeep Wagoneer, it's because the model has been discontinued for quite some time now, but now it's back, and it's nothing like you've ever seen before. The 2022 Jeep Wagoneer brings back iconic styling, premium details, and cutting-edge technology. The new Wagoneer luxury SUV offers some of the most impressive detailing from Jeep that we've seen yet, and if you love the latest and greatest driving elements, then the new Jeep Wagoneer will be tough to pass up on.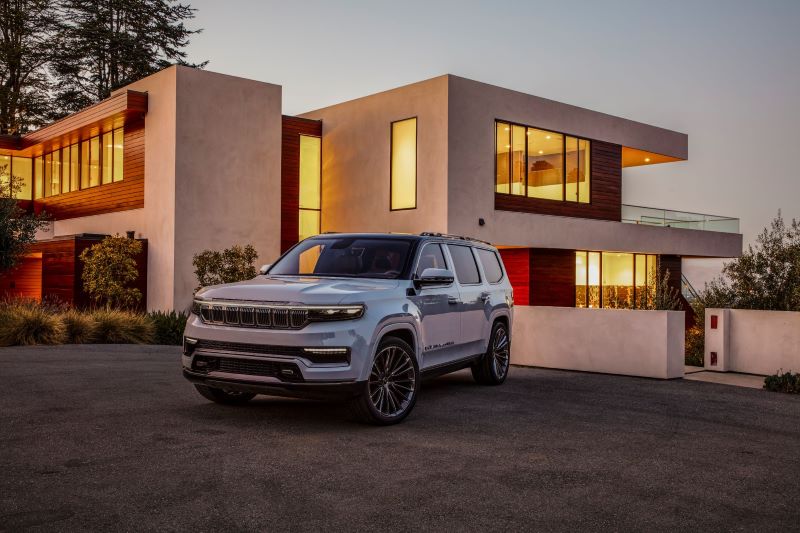 Highlighted Features
Design
The 2022 Jeep Wagoneer exudes elegance and sophistication from every angle. When the sun is shining in Houston, take in the natural light through a stunning full-length single-pane glass roof.
The front end pierces through darkness using Intelligent LED lighting with a 180-degree lateral rotation capability. These lights look just as good as they perform, as they emphasize the sleek new Jeep grille.
The new Wagoneer is also outfitted in impressive 24-inch multi-spoke obsidian-finished aluminum wheels that speak to the SUV's style and class.
Technology
The interior of the 2022 Jeep Wagoneer surrounds you in modern technology from one end of the dash to the next. There are hand and head-treated blackened lace-wood with raw accent edging and authentic dual-texture metal framing.
The cabin is also outfitted with new LED displays and diamond silver-tipped piping lines.
This SUV is quite simply a work of art.
You'll enjoy 45 inches of total display surfaces, which included a 12.3-inch digital cluster, a 10.25-inch touchscreen on the passenger's side, and a 12.1-inch center touchscreen.
No matter where you settle in, you'll be sure to have a first-class and fully customizable experience.
Request a Test Drive
It might not get better than the 2022 Jeep Wagoneer, and as the first of its kind this year, you'll be sure to stand out wherever your next adventures take you. For more information, please reach out to us here at Southfork Chrysler Dodge Jeep RAM.